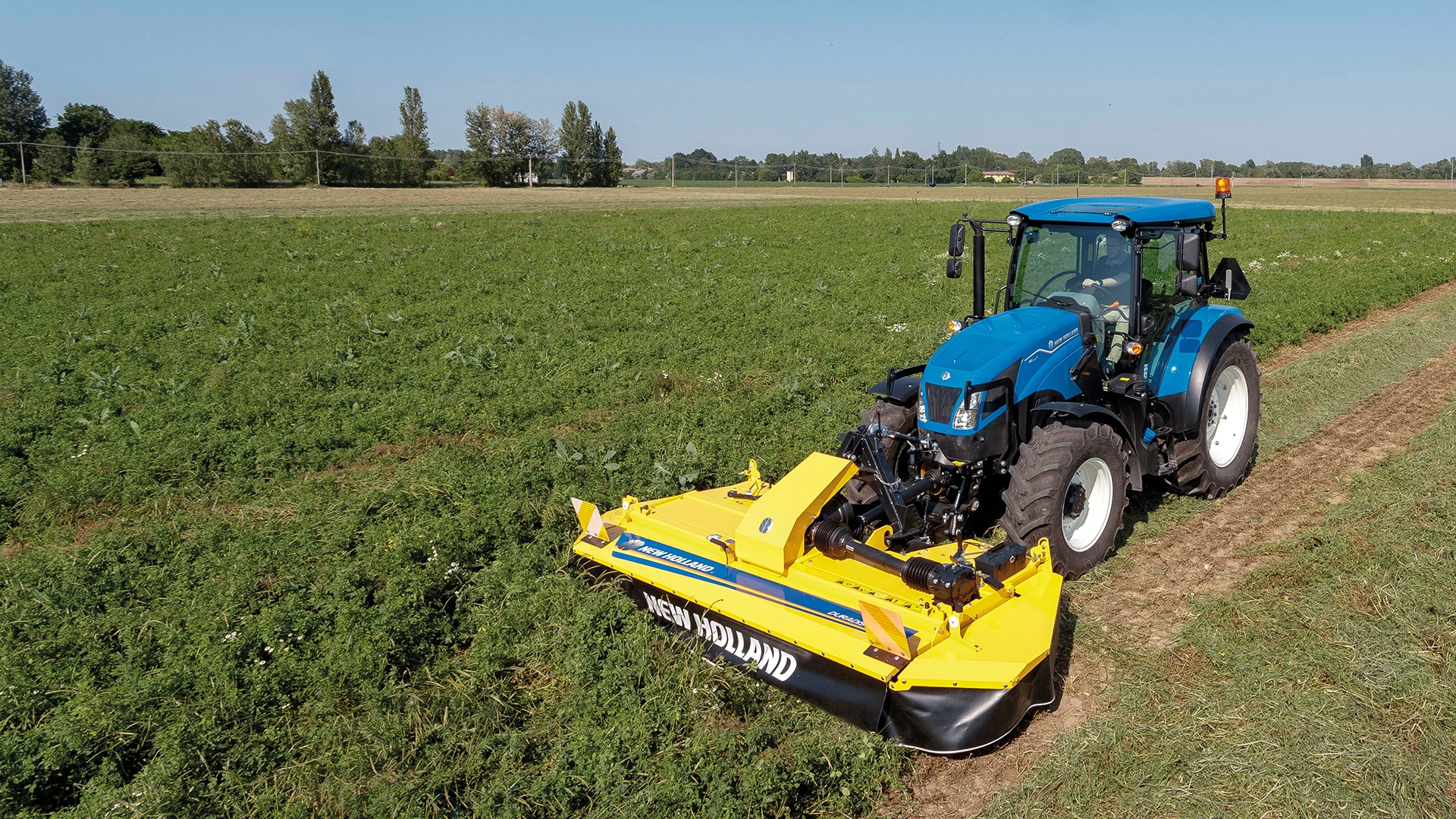 T5S
ESSENTIAL, STRONG, BUILT FOR EVERYTHING
 New Holland T5S 90hp to 100hp tractors deliver the perfect balance between modern efficiency and the demands for a simple tractor that just does exactly what you need it to do. The T5S range come with a new generation four-post cab that delivers the best all round visibility and operator environment in this tractor class. Need a loader? The new LA & TL loaders are available from factory and is specifically designed for the T5S, tough and durable it features mechanical self-levelling as standard. Available with mechanical 12×12 transmissions, or a 20×20 creep speed option which takes the speed down to 0.12kph, T5S offers the specification choice to suit farmyard, or field, hobby farm or hay and forage enterprises. Need speedy manoeuvrability? A hydraulic powershuttle is offered for clutch free changes between forward and reverse. Do you work with heavy rear mounted equipment? With a T5S you can benefit from 4,400kg of rear linkage muscle for best in class performance with Lift-O-Matic™ linkage control as standard. Electro-hydraulic PTO engagement, with an easy to modulate soft start, comes as part of a tractor that is built to meet modern demands for efficiency and ease of operation with traditional simplicity and ease of maintenance.
Brochure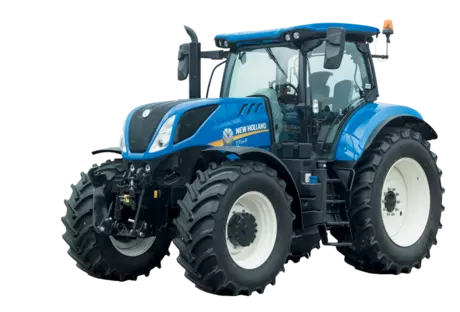 SIMPLICITY MEETS MODERN THINKING
Take the time to look over a New Holland T5S tractor and you will see for yourself that these tractors offer the perfect balance between traditional tractor design and modern ergonomics. New users will quickly feel comfortable and appreciate the ergonomic control layout, which ensures everything is to hand to work the tractor safely and efficiently. With the new generation cab, we take this class of tractor to a new level. With its four-post design, and pillar to post glazing, the cab gives superb all-round visibility. An opening glazed roof panel is functional too, allowing loader equipped tractors to be positioned with pin point accuracy. Highly efficient heating and ventilation, with air-conditioning as standard, ensures the operator remains comfortable, whatever the weather.
RESPONSIVE POWER. PRODUCTIVE EFFICIENCY
At the heart of the T5S is a 3.6 litre Common Rail F5C engine developed by FPT Industrial that fully comply with the stringent Stage V emissions regulations and results in outstanding maximum torque. New Holland introduced Common Rail to agriculture in 2003, and the optimised engines on the T5S benefit from the latest generation in this fuel efficient technology. These powerful, super-quiet engines can develop a maximum power from 90hp to 100hp depending the model and up to 450Nm of torque at just 1300rpm, which provides optimal torque for all tasks.
FUNCTIONALITY HAS NEVER BEEN SO COMFORTABLE
New Holland kept things simple when designing the all-new 4 pillar cab. Put simply, you spend long hours working inside your machine, so we placed you, the operator at the heart of the design. The upgraded materials and high standards of fit and finish enrich your operating experience. The light grey trim brings the outside in, and contributes to the bright and airy, yet modern and durable feeling. Advanced, hard-wearing design that will last as long as your farm.
OUTSTANDING TRACTION. UNSURPASSED COMFORT.
The new LA & TL front loaders featuring mechanical self levelling integrate perfectly with all T5S models and can be specified directly from factory. The loader fits low over the hood, enhancing visibility to put you at ease and allow for a more confident operating experience. These loaders are comfortable to operate with the new ergonomically designed joystick and three-function mid-mount valve. Ideal for attachments that require hydraulic power supply. The Euro style headstock comes as standard for easy attachment compatibility.
CONTACT US ABOUT THE NEW HOLLAND T5S