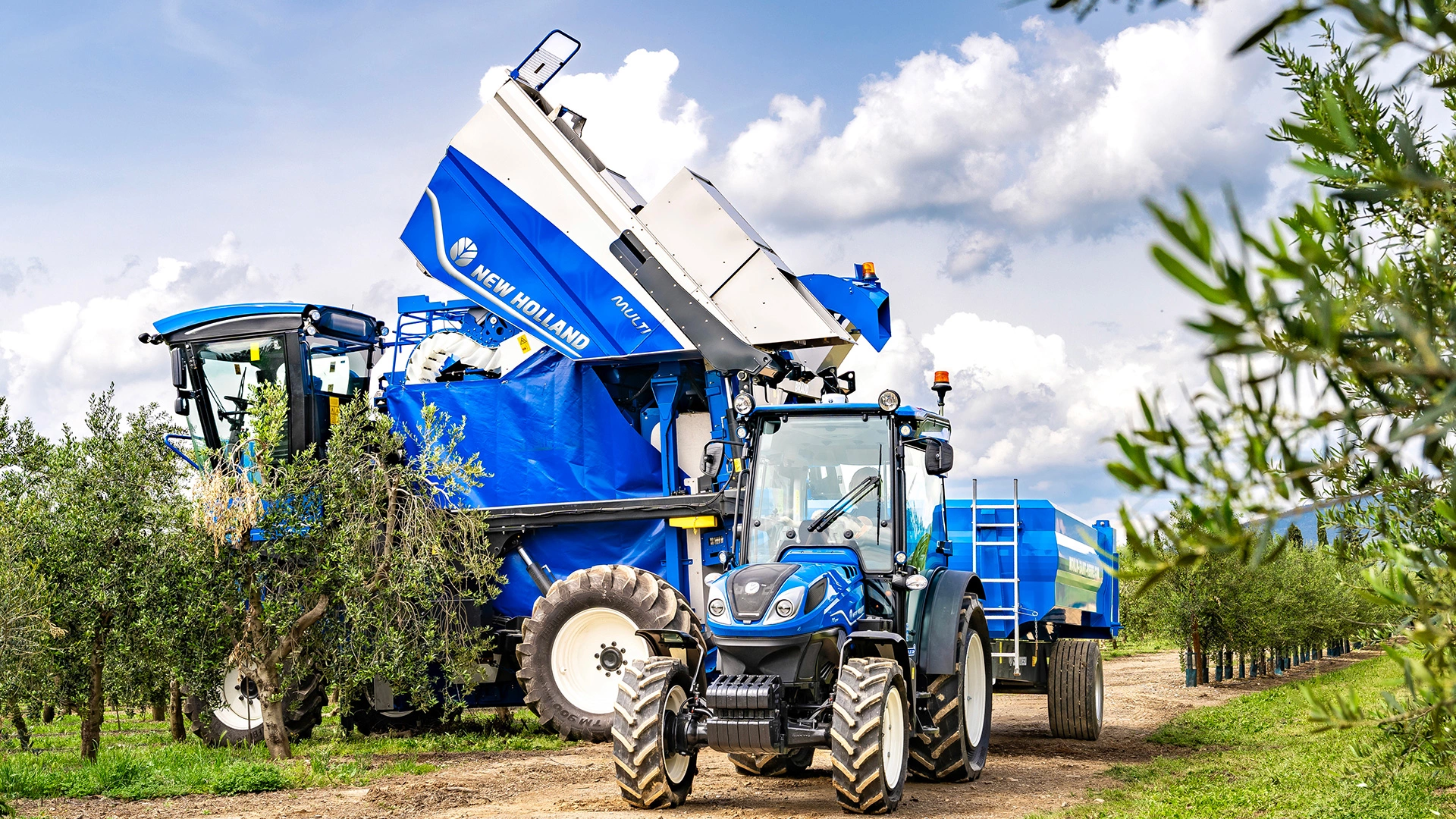 T4 F/N/V
SUPERCOMFORT, SUPERPOWERFUL, SUPERSAFE AND SUPERCONNECTED FOR EVERY JOB
The first 700C crawler was produced in 1932 and the first specialised tractor in 1951, the 25RS. Built on decades of experience, New Holland always imagines the future and adapts its products to customers' expectations. The new New Holland T4 F/N/V and TK4 ranges are fully redesign and developed to do all kinds of jobs in any condition. Slopes and flate areas, vineyards, mega orchards, greenfield… the impossible is their specialty. With a huge level of comfort, safety and visibility, the new VisionView™ cab provides the best working environment for long working days. Up to date – our new ranges are connected and help you to monitor each task for perfect traceability. The excellence of all specialised products confirms New Holland as a world leader. The Jesi production facility is not only respecting the environment while producting Stage V tractors but is also reducing the carbon footprint of the entire plant. It won the Ecohitech award for its progress, a mean feat for a plant that never makes the same tractor twice! With a strong dealer network, New Holland is always close to you, with its trained and certified teams.
Brochure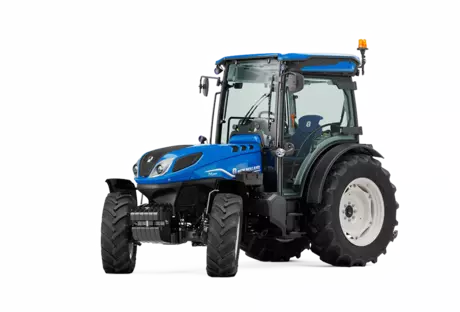 THE WIDEST FRONT AXLE OFFERING TO SATISFY EVERY APPLICATION
T4 F N V tractors have the option of 3 different front axles, Standard, SuperSteer™ and Terraglide™. The legendary SuperSteer™ front axle offering an effective steering angle of 76°, which means a tractor can turn in a radius as low as 3.5m for truly outstanding agility. The Terraglide™ front axle suspension smooths out the bumps and lumps on the road and field. Not only does it provide superior comfort for operator, but also it is proven to protect the tractor and mounted implements. In the field the advanced suspension system maintains contact between the tyre and the ground to improve traction and safety
A WIDE CHOICE OF EFFICIENT TRANSMISSIONS
Thanks to the modular design of the new T4 F N V tractors, the transmissions can be easily matched to the end user's needs. Advanced features include a new ergonomic gear leveller position, new creeper engagement by just pushing a button and the ability to adjust the Powershuttle aggressiveness. New options includes a new Parking lock feature now available on Powershuttle transmissions as well as on Dual Command™ versions. Shuttle reverse and PTO are now have fully configurable engagement settings in order to have the right adjustment for the application.
ALL NEW FRONT AND REAR LINKAGE
Compatible with all T4 F N V tractor models, the new front linkage option has a lift capacity of up to 1500kg. Compatible with a SuperSteer™ front axle, the front linkage is available with or without front PTO. The rear linkage has been completely redesigned with 2 external lift cylinders providing a lift capacity of up to 2519kg. Mechanical Draft Control with proven Lift-O-Matic™ system is standard on all models and Electronic Draft Control is optional.
SUPERPOWERFULL: A CONCENTRATE OF POWER
T4 F/N/V tractors are equipped with the famous F34 and F36 high performance 4-cylinder FPT Industrial engines with Stage V electronic fuel injection, ranging from 75 to 120hp. The F34 and
F36 engines offer fantastic fuel efficiency thanks to the ability to achieve max torque at just 1,300rpm. The AdBlue and fuel tanks are perfectly sized for long working days. FPT Industrial engines
provide market leading performance and reliability. With 600hr service intervals on the T4 Speciality range delivering low cost of ownership and a reduction in downtime.
CONTACT US ABOUT THE NEW HOLLAND T4 F N V