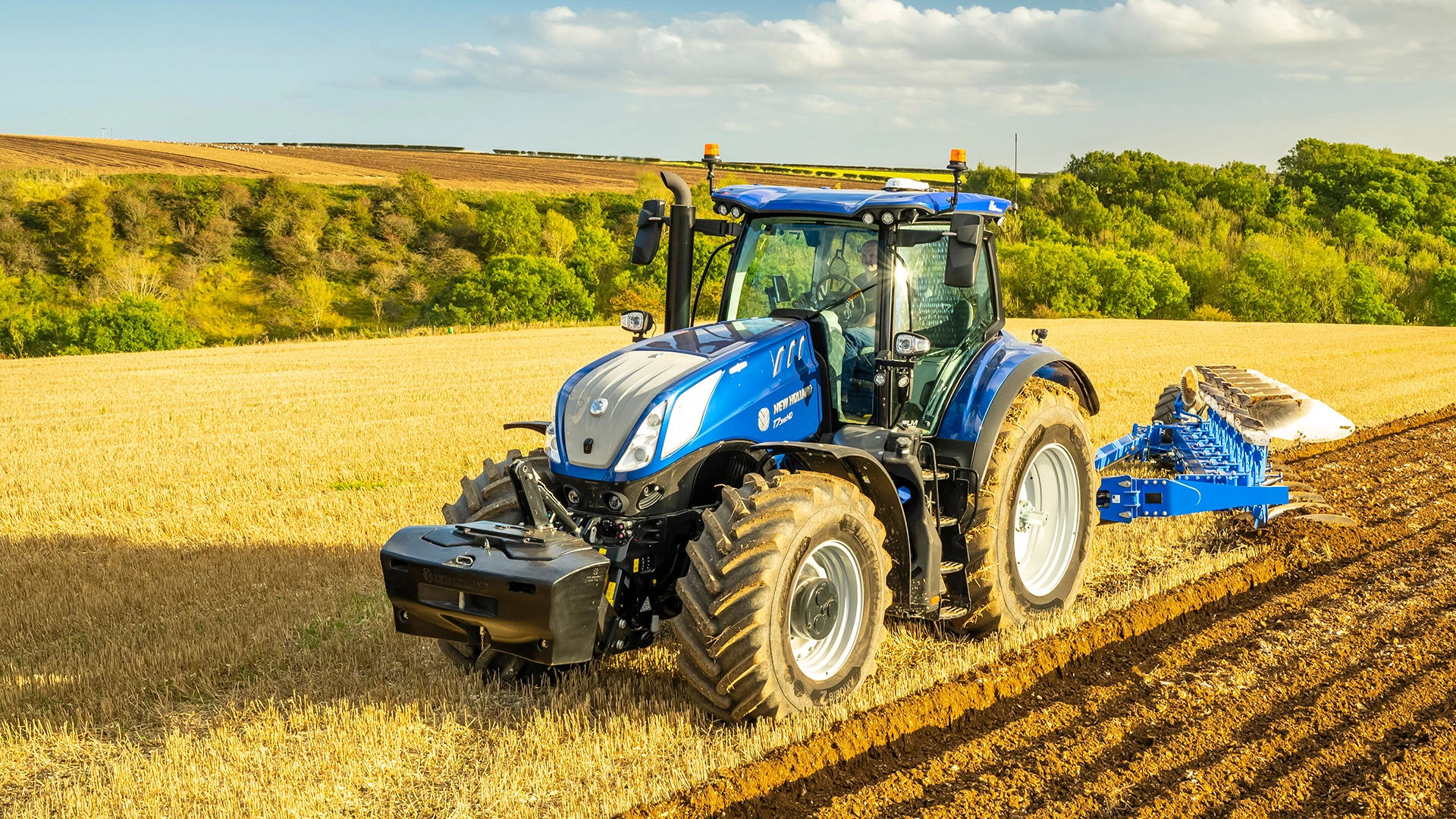 T7 Heavy Duty With PLM Intelligence
You name it. The T7 Heavy Duty does it. Built in Strengths. Job done.
More Power
Up to 313hp(CV) is on tap, enhancing your T7's strength to work with the most power hungry implements.
More Comfort
Up to 20 LED work lights keep you working around the clock and ultra comfortable seats mean operators keep their strength up all day long.
More Efficiency
Thanks to ECOBlue HI-eSCR technology to keep your fuel costs low and your bank balance even stronger.
More Versatility
Your T7 Heavy Duty is strong enough to deal with draft work, tillage applications, baling, transport.
NEW HOLLAND T7.315 TRACTOR WINS MACHINE OF THE YEAR 2016 TITLE IN THE L CATEGORY AT AGRITECHNICA SHOW
New Holland reaps a prestigious award at Agritechnica 2015: the brand new T7.315 tractor was crowned with the coveted "Machine of the Year" 2016 in the L category , title bestowed by a jury of 19 journalists representing leading European agricultural publications.
Two Models Right For Your Farm
Sometimes there is strength in depth, but with the T7 Heavy Duty range New Holland has distilled the essence of high horsepower tractors in a standard frame into just two models: the T7.290 and the T7.315. These models offer 6% higher lift capacity than the standard T7 range, up to 11058kg, to enable you to work with the largest ploughs and seed hoppers. The 11cm longer wheelbase delivers even greater high speed stability and draft performance. When coupled to the wider tyre offering, including the ultra-low compaction 900 tyres, the T7 Heavy Duty really has been taken to the next level.
Strong Agricultural Design
The T7 Heavy Duty is a true farmers' tractor. What do we mean by that? Quite simply, this range exists because you, the modern farmer asked for it. Every feature on this range is the fruit of extensive global customer consultation. You asked for more power. It's here. You asked for the ability work with larger loads. It's here. You wanted business class comfort. Step up and take a look. You need a tractor with compact dimensions suitable for narrow roads and tight in-field turns? Job done. You demanded multitasking flexibility. The T7 delivers. Plus you wanted a good looking tractor with head turning styling. Just take a look. T7 Heavy Duty. You asked. We delivered.
World Class Tractor From A World Class Facility
The T7 Heavy Duty tractor is a unique product in the New Holland range. In order to deliver such an advanced machine, a brand new production line was built at the Basildon factory in the UK. Conceived in line with World Class Manufacturing best practices, every T7 Heavy Duty tractor is built to the most rigorous standards to ensure that it delivers day in day out, for many years to come.
Experience A Revolution In Tractor Operation
An ergonomic, spacious and practical operator environment is a must for day-long productivity. That is what New Holland's industry leading Horizon cab delivers. Want all round visibility? Whether you're in the yard, in the field or on the road, you'll have an uninterrupted productivity enhancing view. Always. The high visibility, fully openable transparent roof hatch enhances ventilation and brings the outside in.
Control Centre
The air conditioning controls, lighting panel, additional storage slots and the radio have all been grouped in an ergonomic cluster. A Bluetooth RDS/MP3 radio is fitted as standard. Not only can you take your phone calls handsfree, you are also able to listen to your favourite tunes either streamed directly from your MP3 player, via the AUX connector, or via a USB memory stick.
Farming Luxury
The full leather steering wheel and deep pile branded carpet are available as an option. You can select other luxury options such as leather seat, rear sunshade, tinted rear windscreen and heated front and rear windscreen.