New Holland T7 LWB WITH PLM INTELLIGENCE
ULTIMATE PERFORMANCE DENSITY
The new five model T7 Long Wheelbase with PLM Intelligence™ range is packed with even more features and is bristling with upgrades. An all-new, super spacious Horizon™ Ultra cab. Even bigger 2.05m tyres. An all new, range topping 300hp model. New axles and upgraded Auto Command™ transmission. And engineered with reliability and simplicity in mind. Improve your Performance Density with the new generation of T7 Long Wheelbase.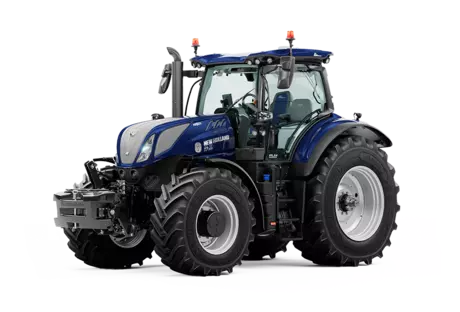 "
More Power. More Comfort. More Choice. Same Compact Dimensions.
"
BRIGHT LIGHTS FOR DARK NIGHTS
Lighting up the way for improved night time productivity and total safety is a New Holland key priority, accomplished by bringing into the farming world the latest automotive sector innovations, such as LED lights. The all-new lighting offering features up to 20 LED lights. Brighter and less power-consuming than their standard equivalent, these lights offer a broad spread of white light, turning night into day. Up to 6 lights can be fitted in the front and rear of the roof, while high level headlamps light up the distance and pave the way for non stop operation
THE ULTIMATE ERGONOMIC FARMING EXPERIENCE
The T7 Auto Command tractors offer sophisticated features that are easy and intuitive to access. How? Well, we listened to customers and developed the SideWinder™ II armrest to make everything simpler. All key controls are accessed from the armrest. Throttle, transmission and hydraulics. Everything you need to control is intuitively selected. More advanced features can be quickly accessed. It does not take long to master a T7 tractor
THE QUIETEST CAB AROUND
Want all round visibility? Then New Holland's industry leading Horizon™ cab is the solution. In the yard, in the field or on the road, you have an uninterrupted view. Always. The single piece front screen offers a perfect view no matter what the weather or your field throws at you. The new sun-visor protects you from the harshest rays. Working with front loaders? Select the high visibility, fully openable transparent roof hatch, which affords a perfect view at maximum extension from the comfort of your seat. Never lose a grain or suffer a crick in your neck ever again. Whisper quiet comfort is courtesy of a mere 69dB(A) cab noise level.
INNOVATIVE AUTO COMMAND
Designed and built by New Holland over 10,000 multi award-winning Auto Command™ continuously variable transmissions (CVT)have been produced. The Auto Command™ transmission benefits from four direct drive points with 100% mechanical efficiency. These points have been precision engineered to ensure that they perfectly match the most frequently used speeds during heavy draft work, secondary cultivation activities, high speed in-field work, such as baling or  mowing, and high speed transport activities.  Advanced double clutch control further enhances efficiency. Quite simply, it is the smoothest and most productive CVT around.
IMPROVED STABILITY. FASTER TRAVEL. BETTER COMFORT. GREAT CONTROL.
Combining the powerful action of Terraglide™ front axle suspension, Comfort Ride™ cab suspension and suspended seat, you can experience a smooth ride, whatever the road or soil conditions, with great benefit in terms of comfort, driving pleasure and reduced fatigue.
CONTACT US ABOUT THE NEW HOLLAND T6